Pan Americana – Dream road for adventurers
Pan American Tour – a journey of discovery along the longest street in the world
Pan Americana

Which Pan Americana is not just a road, but a whole road network, extending over North America, Central America and South America extending and so combines the American double-continent. Officially starts the Panamericana in Latin America, in the Mexican border town of Nuevo Laredo. Unofficially you count also roads in Alaska, Canada and USA (Lower 48) the Panamericana, as z.B. the Alaska Highway. The Panamericana is one of the dream streets of the world.
In English is the Panamericana "Pan American Highway", in Spanish it is "Pan American Highway", "Panamerican Highway«Or»Interamerican Carretera" (Central America).

A final gap in the road network of the Panamericana is located between Panama and Colombia "Isthmus of Darien", the Spanish "Darien Gap"And in English"Darien gap" is called. The missing link is, or depending on the source. planned road, CA. 90 km- 110 km long.
The construction of a Panamericana connection between the two American continents is always the topic, However, is a concrete implementation of the project in sight. Until the gap in the Pan-American Highway is closed, the Panamericana travelers will have to transport their vehicle between North America and South America by ship, z.B. between Panama (Columbus) and Colombia (Cartagena).
Pan Reise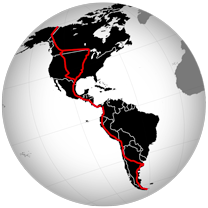 A complete tour Panamericana is a journey from North America to South America or in the reverse direction. In accordance with the Directory of Panamericana travelers More travelers are from North America to South America go, as from the South to the North. Many Globetrotter limited to a continent and traveling initially only in North America (with Central America) or South America.
During the tour in North America is usually started in spring / summer in the northern hemisphere, travel in South America often begins from September to December, So in the local spring.
On a recent trip from Alaska to Tierra del Fuego, the attractions close ranks often together. A trip week is then rapidly over. If you look back, however,, acts one week due to the countless impressions almost like a month.
A long trip is not a holiday. All organizational tasks, which are carried out at a vacation before or after, falling at a long-term journey to go. Errands often take much longer to complete, since one is not familiar with the area. In between also Verschnauftage are needed, to process the many impressions, Work up has broken down or to stay in a nice place. So some travelers are not quite as fast on the go, as they have originally planned.

A reasonable time frame for a complete Panamericana tour can hardly be called, because every traveler is at their own pace on the road. A rough guide is a duration of approximately two to three years with the motorhome. In a much smaller time quota should think about, first to tour the continent and later the other. Some travelers are also significantly longer traveling.
Attractions along the Panamericana

In a Panamericana travel there is so incredibly much to see and do, so here is representative of only some collective terms can be called, to the diverse impressions to describe in this journey. The travel reports on the websites of the travelers and the travel guide (Books) describe for each country in detail all sights.

Along the Panamericana one encounters vibrant cosmopolitan cities, gorgeous colonial cities, remote mountain villages, massive mountain ranges, grandiose canyons, extremely high mountain passes, Panoramastraße, endless forests, gentle valleys, Desert areas, endless lakes, Friends türkisfarbene, majestic volcanoes, calving glaciers, Caribbean beaches, impenetrable rain forest, world-famous rivers, famous National Parks, Bears,

Caribou, Elche, exotic birds, Crocodiles, Whales, Dolphins, Monkeys, Penguins, Pelicans, Flamingos, Wild cats, Lamas, Alpaca, countless plant species, colorful markets, impressive churches, mighty cathedrals, historische Monuments, Colonial buildings, Silver mines, mighty pyramids, local crafts, local cuisine, National drinks, exotic fruits, tasty vegetables, Regional Celebrations,

typical clothes and the diverse people in diverse cultures. World history is omnipresent.
Panamericana Travelers
The Panamericana travelers are a well mixed group. So you meet traveling families, Couples, Solo travelers, Worker, Employee, Officer, Self-employed and all ages from babies to pensioners.
You meet travelers from almost all European countries, including many German, many Swiss, Austrian, English, French, etc.. Even Canadians and Americans are on the Panamericana road. Passengers normally speak on first name and first-name terms.
That Directory of Panamericana travelers gives an overview of some 400 Travellers, after travel status, Travel direction, Travel Area, Vehicle category, Child, Dog, Language travel site can be filtered.
Vehicle
Along the Panamericana we see travelers in all vehicle categories, including all-wheel truck Expedition Mobile, 4×4 SUVs Toyota and Land Rover with roof tent or pop-up, VW buses, large RV on truck chassis, Motorhomes at Fiat- or Sprinter chassis, VANs, Pickup camper etc. With all these vehicles can be realized Panamericana Tour.
Of course, one goes with the motorhome and low ground clearance may not reflect on the off-road track, which is a challenge even in SUVs. Of course, it can be cumbersome in large truck, to maneuver through the narrow streets of a small mountain village. Therefore it is not so easy with a compact SUVs, longer time to stay at a secluded place with no infrastructure.
Each vehicle category has its advantages- advantages and disadvantages and the vehicle should fit primarily for travel style of travelers. Basically a Panamericana tour with many vehicles is feasible, by bike.
Shipping
With a European motorhome three shipments are necessary for a full Panamericana trip. The first shipment is carried out by North America and South America Europe after, the second shipment is between North and South America required and the third shipment is carried out by North America or South America to Europe back.
Large vehicles are generally from / to Europe via RoRo (Roll-on-Roll-off) transported, are also shipped by container while smaller vehicles. On the RoRo ships of Grimaldi can choose between Europe and South America to 12 Travel with passengers. If you have booked a cabin, you can follow his motorhome and "guarding", while at intermediate stops strangers to Be- and discharge are on board.
Is between North America and South America, next RoRo and container, used regularly, the Flat Rack. A Flat Rack is a container with end walls, but without side walls and roofless, so even large vehicles can be transported on. Motorcycles and bicycles can also Sailing boats are transported between Panama and Colombia.
At times, there was a Ferry between Panama and Colombia, the vehicles as well as passengers transported. Currently, there is no ferry between Panama and Colombia!
In addition to the shipments are, may vary depending on, several trips with car ferries needed. For short trips include the crossing of rivers (z.B. on the Dempster Highway), while longer ferry trips a few hours (z.B. Baja California – Mainland Mexico) or even days (z.B. Alaska Marine Highway System) can take.
Accommodation places

In Canada and the US secure Übernachtunsplätze are easy to find, because camping is very popular in Canada and USA. There are countless campsites, RV Parks, National parks, State Parks, etc. You can sleep where. In some countries of Central America and South America is a good place for the night is not always so easy to find, especially if camping is not widespread in the country, or even uncommon.
This is why many travelers to publish the lists of their pitches in Latin America, make it easier for other travelers, to find suitable accommodation places. In the category Accommodation places the known pitch-linked lists.
Preparing a Panamericana Travel
The travel websites of Panamericana travelers are outstandingly suitable for the preparation of their own Panamericana Travel. There you will find the latest information and the best travel advice from experienced travelers, also through their own travel arrangements. Even with a Panamericana Book you can tune into its journey. However, it makes little sense, read the guide of all countries before traveling.
PanamericanaInfo provides the following functions, to travel information easily and quickly find:
Travel info
In appropriate categories (z.B. Accommodation places, Shipping, Travel with pets etc.) is linked directly to the respective information on the websites of travelers.
Travellers
The list of Panamericana travelers can travel by state, Vehicle, Travel Area, Travel direction, etc. are filtered. So you can very quickly find travelers, who are traveling with a similar vehicle or also with child.
Search
This feature is designed for the quick retrieval of specific travel information. For this, the Google search engine is controlled, that only results of Panamericana sites are displayed. This enables a very effective and efficient research all sorts of travel information.
During the preparations, many questions arise, some of which will be answered on any travel site. For these questions offer Pan Foren at. There, travelers meet, answer the specific questions like.