Welcome to the Panamericana
Finding instead of searching! Links to good travel information and new travel Web sites for the Panda tour!
For Panamericana travelers with motorhome, SUVs, Expedition-mobile, Bus, Pickup camper, CAR, Motorcycle or bicycle on a Panamericana travel between Alaska and Tierra del Fuego in North America in South America.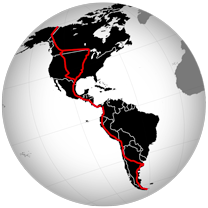 Current info & Latest updates